You don't use facial oils? Look at your life...
By . - Friday, April 29, 2016
As a black woman, living in dry ass Johannesburg and in her 30's, I honestly couldn't see my life skin without oils. I would slather on good old fashion virgin coconut oil on my face every night after to cleansing to seal in moisture. I also tried rubbing that mess on my jacked up relationship at the time, but that didn't work at all.
Anyway, we have amazing oils formulated especially for the face, and I'm loving them so much. Before I reveal my favourite ones, let me give you 6 reasons why you might want to try one.
1. They can reduce the appearance of wrinkles
I know they say that black don't crack, but too much unprotected ultraviolet light is a set-up for free radical damage — and that means wrinkles and sunspots galore. Some facial oils are packed with antioxidants, which prevent further aging, so if you're affected by sun damage and dryness, I recommend looking for products containing primrose oil or those with a vitamin E base, such as Argan oil.
2. Kiss dry skin goodbye
I told you that it's dry in Jo'Burg, and very well may be dry wherever you are. We're entering winter and I can already feel the moisture being sucked out of my skin by heaters. Oils are the ideal antidote to dry, flaky skin and rough cheeks — and they are super effective at sealing in that moisture, unlike the expensive ass Creme de la Mer that you bought last week. Return that mess and turn your lights back on!
3. They're the perfect primer for makeup
Oils like mandarin and pumpkin seed zip through the top of skin at lightening quick speed, quickly settling comfortably into the areas that need hydrating the most. This gives an immediate plumping effect and creates the perfect canvas for your makeup — and the smoother your skin, the better your whole face will look. You're free to beat your face to the gods if you want to, but you may not have to since your skin will look so much better.
4. Shrink those pores!


Higher-end oils such as macadamia, jojoba, and camellia actually pull out grime and fats from pores, making them appear smaller and less noticeable. But be warned: The proof is in the formula. Unfortunately, oils readily available at the grocery store can give you clogged, puffed-out pores, so consult with your dermatologist before trying just any old oil. I think the lighter the oil, the better!

5. Bye-bye nasty rash
Many oils have anti-inflammatory properties as well, helping to quell irritated skin. Argan and yangu oils are ideal for irritations that follow use of popular anti-aging products such as retinol or alpha hydroxy acids. Geranium oil is also fabulous at reducing redness from rosacea, as well.
6. Zit blaster
Believe it or not,
tea tree oil
is a pretty darn good zit zapper. And no, you won't
get more pimples
if you use oils. We aren't talking about slathering the oil your mother uses to fry eggs with on your face, after all.
My favorite facial oils...
Midnight Recovery Concentrate
A replenishing nighttime facial oil with distilled botanicals that visibly restores the appearance of skin by morning.
Regenerates, restores, and replenishes skin for smoother, healthier skin
Works with the skin's natural nocturnal activity - when skin is most receptive to repairing itself from daily aggressors - to dramatically restore skin
99.8% naturally-derived and paraben-free oil for face
Daily Reviving Concentrate
Lightweight facial oil that keeps skin looking radiant all day
Strengthens skin's defenses against daily aggressors to keep skin youthful and radiant-looking all day
Provides antioxidant protection with a powerful blend of naturally-derived oils, including Ginger Root, Sunflower and Tamanu, to help skin feel fresh and look energized morning to night
Paraben free, 100% natural origin, Mineral oil free, Non-comedogenic, Non-acnegenic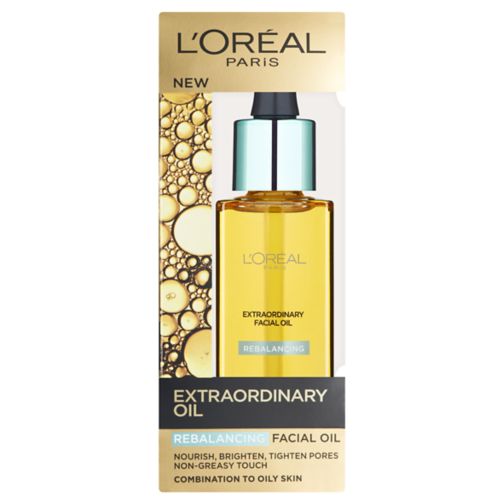 Extraordinary Rebalancing Facial Oil
For Combination to Oily Skin
Nourishes
Brightens
Tightens Pores
Non-Greasy