Hotel Review: Protea Hotel by Marriott O R Tambo Airport, Johannesburg, South Africa
By . - Thursday, May 03, 2018
"Discover a refreshing home base for your visit to Johannesburg at Protea Hotel O.R. Tambo Airport. Relax in spacious rooms and suites enhanced by aviation-themed décor, modern amenities and striking floor-to-ceiling airport views that include take-offs, landings, and impressive international aircraft. Embrace serenity with blackout curtains and double-glazed windows that seal out noise and distractions. Treat yourself to distinctive international cuisine at The Warehouse, our quirky hotel restaurant with indoor and terrace seating."
The Location:
Protea Hotel O.R. Tambo Airport
Corner of York & Gladiator Streets, Rhodesfield, Kempton Park
Johannesburg, 1619 South Africa
The hotel is conveniently located near Rhodesfield Gautrain Station, which is a safe, clean and timely way to travel around certain parts of Gauteng, South Africa. There is also a bus and shuttle connection service at select areas.
The area seemed very quiet and residential upon arrival with lots of tree-lined streets.

Our Arrival:
I arrived at the hotel and to my surprise, there wasn't a doorman or anyone to assist with luggage. Luckily, my Uber driver assisted me into the hotel with my luggage. I headed directly to reception as I was very eager to check-in and settle into what I believed would be a very comfortable room.
Mimi offered to assist me with check-in. I handed her my ID but she was unable to find me in the system. Thankfully I had my booking confirmation on my phone. It turns out that my second name and my surname were combined, but it wasn't a real problem for check-in.
During this time another guest approached Mimi at the front desk with an issue. Mimi began to help this guest and left me waiting for approximately 15 minutes. Yes, I checked the time! I am heavily pregnant and standing for prolonged periods of time is not high on my list of activities. I looked around for a chair and decided to sit down. When Mimi realized that I wasn't interested in standing there while she catered to a guest that came after me, she asked a colleague to assist me.
Megan came over to where I was sitting and apologized for my wait. She quickly took my card and processed the payment for the room with a smile. It was finally time to check out my room!
Price:
First Class Deluxe, Guest room, 1 King - R1535 ($121,53 - 2 May 2018)



The Guestroom Interiors & Amenities:
As soon as I walked into my room, there was a toilet to my left with a door. I really do prefer this setup, especially if you aren't staying in the room by yourself. The next thing to my left was the sink and shower that was very minimalistic, clean and functional. I had an amazing shower by the way because I always make sure to wake up very early to get the hottest water and the best water pressure. Aint nobody got time for wack water pressure when you have a huge pregnant belly and a head full of curly coils.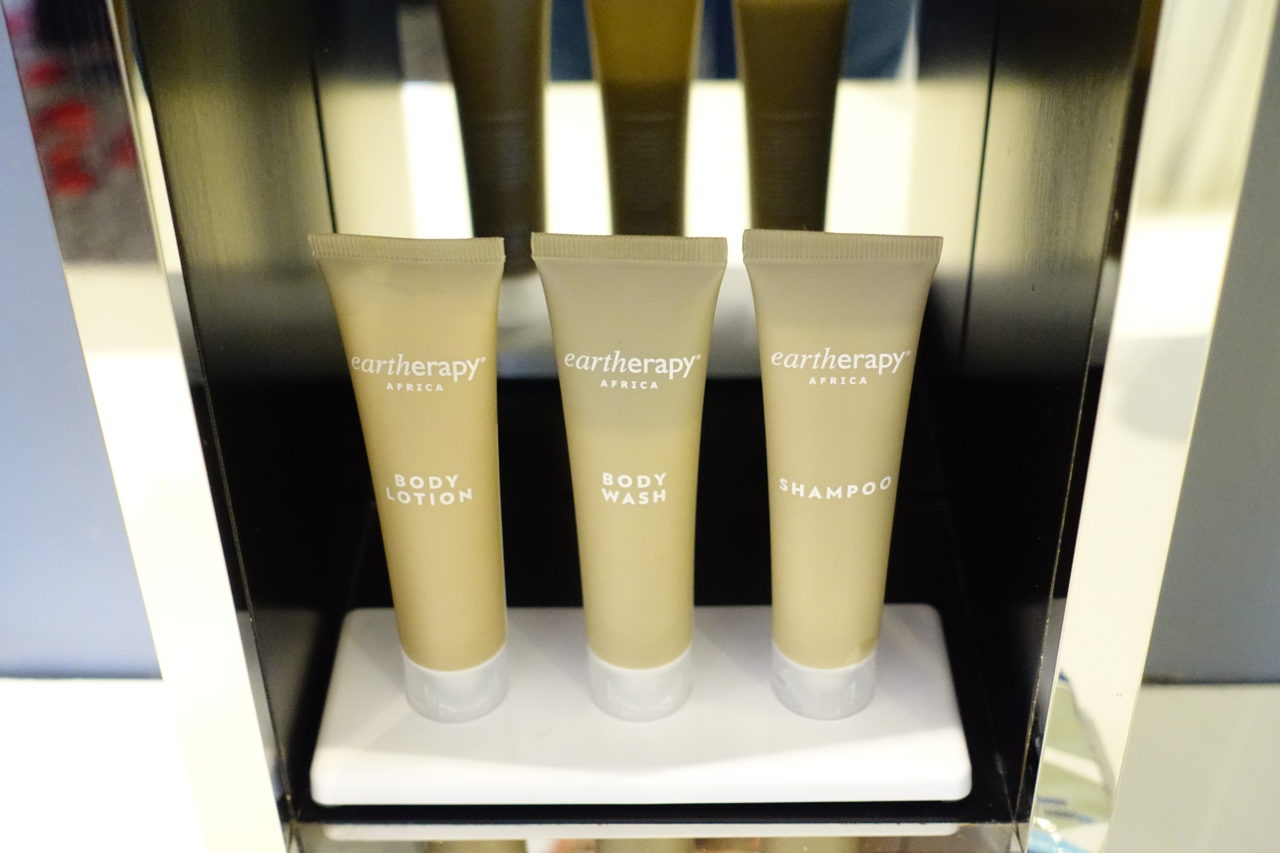 eartherapy AFRICA Body Lotion, Body Wash, Shampoo and Soap were provided by the sink and in the shower. I actually really like the scent and consistency of the body lotion, it's just never enough for me. :(
I'm sure that one could ask the front desk for more if they are that pressed.
Next was the tea, coffee and water station to my right. What seemed like a small credenza actually doubled as drawer space for your personal items such as toiletries etc. Nice touch and very functional.
I closed the white curtain so that I could take in the space that what would be my domain for the next 12 hours. I chose a bed with a king size bed because bigger is definitely better. I also tend to work from the bed and need space for my notebook etc.
This desk didn't excite me at all because there wasn't enough lighting above it. I couldn't even do my make up here so it's a no for me.
The closet space and full size mirror were standard and good enough for me. No complaints here!
It's a television. I don't watch television. Thank you for the television. I don't know if it works or not because I never bothered to switch it on. I'm sure it works just fine.
I present to you something that annoyed me. This light fixture above the desk didn't work. I don't know if the bulb was dead or if the wiring was messed up. Whatever the problem was, I couldn't work at this desk because of the broken light.
Hi-Tech Features:
Nothing.
Food And Drink:
Lunch:
I was starving when I arrived and it was time for lunch anyway. I called room services and got Mimi on the phone. I ordered the beef burger that came with bacon, cheese, pickles, coleslaw, onion rings and steak fries. I asked for a big bucket of ice because I like to eat ice. Blame it on the pregnancy!
The actual burger patty had no flavor and tasted very gamey. Please season your meat. Thank goodness for the onion rings, steak fries and coleslaw that saved the day. Yum!
Dessert:
I ordered a waffle with ice cream and chocolate drizzle. I also added a coke to that and asked for some more ice. Unfortunately, the ice machine was broken and they could barely give me enough ice to fill a normal glass. This pregnant lady was not happy, but once I stuffed my face with the waffles, I forgot all about my lukewarm coke.
Breakfast:
The bed was so freaking comfortable that at 6am I called to reception to ask for late check-out. I knew it was going to take a state of emergency to get me out of bed. I needed to eat. I reached for the room service menu and saw that breakfast was not available via room service. BOO! I had to get dressed and partake in a buffet style breakfast.
There was a basic assortment of cereal and a very small and dry looking selection of scones. I loved the pancake and waffle making station, although that's not what I would usually go for. I went straight to the bacon and sausage. They had a made to order omelette station, fruit and yogurt section and my favourite... the cheese, crackers and cold meat area. Breakfast costs R195 per person and it's all you can eat!
The Verdict:
For a supposed 4 star hotel, the service in is extremely underwhelming to say the least. Customer service is basically what makes the stay of a guest, and if within the first 15 minutes of entering the hotel you are shown that your presence and stay within the facilities is not of the utmost importance to the staff at reception, what exactly is the point? Being slighted by the front desk as a heavily pregnant woman for another guest is simply unacceptable and tacky. Thank you to Megan for eventually helping me to get settled in.
The food and drink is very basic and nothing to write home about.
However, the bed and the linens are tops! I would love to sleep in that bed again, but perhaps I'll just order from Mr. Delivery and bring my lamp from home instead.
Is it worth R1535 a night? Definitely not. Is it the worst place to stay? Definitely not! There is a gym on the premises and a beautiful deck and pool area to partake in when the weather permits. The bar area is standard and can get rowdy in a fun way when a big game is on.
Have you stayed at this hotel? Did you have a different experience? If so, we would love to hear from you. Leave a comment below and share your story.