October rubybox Review
By . - Sunday, October 28, 2012
Today I'm reviewing the October rubybox. For those of you that aren't familiar with rubybox here is the deal. Have you ever gone out to buy some expensive skincare product or makeup just to realize that it didn't suit you? Yeah, that one sitting underneath the sink collecting dust! That's where rubybox comes in. You can sample beauty products before buying the full size products with rubybox. For only R100 per month, you can sign up with rubybox to receive a selection of beauty editor-endorsed sample beauty products. You can thank me later, but for now, check out what was in my October rubybox.
Pretty Packaging
1.
[

rubybox tools

]

Eye Lash Curler
The eye lash curler is an essential tool of any make-up kit. I recently lost mine while traveling, so you can imagine how excited I was to see a eye lash curler in my rubybox. For those of you who aren't really sure how to use this tool follow these easy steps to great lashes.
Apply one coat or two of mascara to your eye lashes

Clasp your lashes in the lash curler

Squeeze the eye lash curler

Tilt them back slightly

Hold for 10 seconds

2.
African Extracts ROOIBOS Anti-Ageing Hand & Nail Cream
I have recently become super obsessed with my hands and nails. I'm taking supplements from my skin and nails, and this Africa Extracts ROOIBOS ANTI-AGEING Hand & Nail Cream is right up my alley. This cream is super thick and luxurious! The scent is light and wonderful leaving my hands silky smooth. Don't forget to rub some into your nails and cuticles for added benefits. It's packed with anti-oxidants and it's staying in my purse. No, I don't want to share any with you. Get your own rubybox!
3.
Zehra Age Beautifully
Zehra is a unique collagen oral supplement that helps you to maintain a genuinely youthful skin. Yes, there is yet another way for me to obsess about my skin and youth. It's exactly what I needed. Zehra's natural Peptan Collagen comes in a convenient powder form enhanced with vital antioxidants, Co-Enzyme Q10 and Vitamin C, and it is perfectly free of preservatives and colourants. Zehra has honestly been reading from my diary and decided to create the product of my wildest dreams. I just haven't tried it yet. I have a 2 packet sample and it's recommended to take everyday for 12 weeks. No sense in wasting what I have, I'll just have to add to my stash and let you know the results. Thanks rubybox!
4.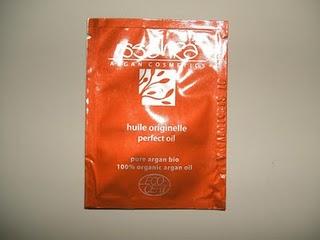 issahra Argan Cosmetics
Pure organic argan oil certified by ECOCERT. It's odourless, paraben free, phenoxyyethanol free, 100% natural active elements and suitable for all skin types.
Advice of usage
The Face : massage delicately a few drops of Perfect Oil on face and neck previously cleansed preferably every evening for 1 month, after the application of the Perfect Radiance Mask or when the skin feels the need.
The Body : after the bath or a peeling, warm the oil in your hands and massage your body with upward movements. 2 or 3 times a week.
The Hair : spread from the roots to the ends and leave for about an hour before shampooing. Dry and brittle hair recovers brilliance and suppleness. Once a week.
Plus
Many benefits multi-use care. Regenerates, hydrates* and protects effectively the skin. Perfect hair oil. "Repairs" burns, chapped hands and lips. Can be recommended to problem skins. Greaseless and odourless, does not provoke blackheads. It's basically the perfect oil on the face of the earth. I've used it on my hair so far and it was all love immediately. I have A LOT of hair, so one sample packet wasn't really enough, but I have two more which I would like to use on my face and skin. Can't wait!




I received samples of the following perfumes and one cologne! I gave the cologne to my husband and I still have yet to try the perfumes. I am rather particular about the scents that I wear and I very rarely try anything new. This rubybox has forced me outside of my box (pun intended) and into terrain I would never explore. I'll let you know what I think after I try them



5.

Flower Tag Kenzo
6.

Madly Kenzo

7.

Kenzo Homme Sport
Bottome Line - I think rubybox is pretty awesome! The October rubybox gave me beauty items that I needed, wanted and probably should be buying. Will you enjoy a rubybox? If you enjoy sampling different beauty items and you have a spare R100 every month, why not subscribe to it?
WHY RUBYBOX?
In the first 15 days of every month, rubybox members receive a beautiful, bespoke box containing luxury, trial-size samples that span across beauty categories. So excited about rubybox you want to sign up for a year and be done with it? Looking for more flexibility? Want to gift rubybox to a friend (lucky girl)? Whatever your style, we have a plan for you.
MEMBERSHIP BENEFITS
Free delivery direct to your home via courier.

Website filled with expert tips, tricks, and tutorials.

Earn rubypoints for reviewing products, referring friends, buying products and more.
Sounds like a fine deal to me. So tell me, will you be signing up for rubybox soon? Each month is different and filled with excellent products. Leave a comment below to let me know what you think.