Product Review - Organic Root Stimulator Olive Oil Wrap/Set Mousse
By . - Monday, December 26, 2011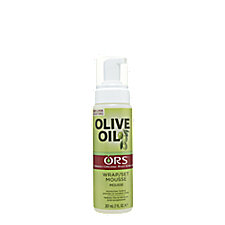 PRODUCT INGREDIENTS
Water Aqua, Polyquaternium-11, Maltodexrine, Oleth-20, Panthenol Vitamin B-5, Yeast Extract, Polyquaternium-7, PEG-75 Lanolin, Dimethicone Copolyol, Egg White Extract, DMDM Hydantoin, Methylchloroisothiazolinone, Methylisothiazolinone, Fragrance Parfum, Benzyl Alcohol, Benzyl Salicylate, Geraniol, Hexyl Cinnamic Aldehyde, Lilial, D'Limon, Cinnamic Aldehyde , Lilial, D Limonene, Lyral, Alpha Isomethyl, Ionone
PRODUCT DESCRIPTION
Moisturizes, holds & provides excellent shine

Leaves the hair soft, moisture rich and full of body

Olive Oil is rich in fatty acids
Organic Root Stimulator Olive Oil Wrap Set Mousse contains a unique blend of ingredients to provide hold while leaving hair soft, moisturized, full of body and shineVitamin E imparts moisture to the hair while Panthenol penetrates the hair shaft to add moisture and shine. A convenient mousse pump creates a fluffy foam for faster drying time.
For over 5000 years olive oil has been known as the healing elixir. It infuses moisture directly into the scalp and hair shaft. This unique blend of ingredients allows for smoother wrapping, waving or molding, longer lasting roller sets, and is an excellent styling aid if you must blow dry the hair.
PRODUCT DIRECTIONS
Pump a small amount into the palm of hands. Rub hands together. Apply to wet hair and comb through for even distribution. Wrap, mold, or set the hair. Style hair as usual
MY REVIEW


I don't believe in doing roller sets or wrapping hair without some sort of setting lotion. This particular setting lotion is pretty close to perfect. Roller-sets hold for much longer and they are so shiny with this product. You can achieve bone straight wet wraps with ORS setting lotion as well. The only issue I have is that if you don't use the right amount, you risk having crunchy pieces of hair. A little bit of coconut oil will take care of it though. This stuff is the bomb! I give this product a
4 out of 5 combs!